Want one of these cool bookmarks?

Send me an EMAIL
with the subject line of
"Free bookmarks!"
and be sure to include your mailing address!

If you'd like extra for your book club or some of your cooler friends, just say so!





Are you a fan of Nicki Styx?


Ever wondered what it would be like to hang out with her and Evan at their vintage store,
Handbags and Gladrags?

Take a brief, silly visit to
VIRTUAL WORLD
OF HANDBAGS AND GLADRAGS
and find out!






Are you up for a spooky little adventure
in some darkened woods?

Play this fun
"create-your-own-adventure" game
based on my urban fantasy release,
BLOOD BY MOONLIGHT!


Go on... what are ya waitin' for?
Too scared?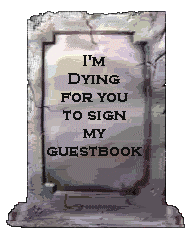 A special thanks to those readers who've signed my guestbook: